Thermal Imaging and Infrared Cameras based in Malaysia
Click on the products below to navigate around quickly
Thermal Imaging and Infrared Cameras
VarioCAM® HD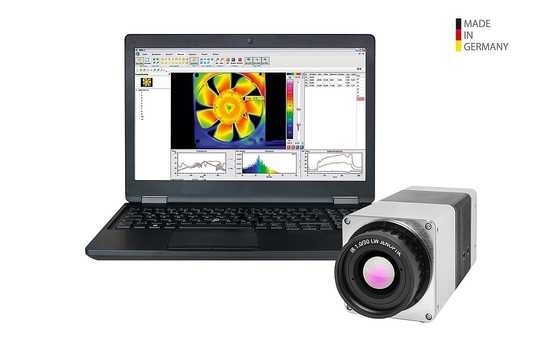 Thermographic Infrared Solution for Use in Industry and Research
The thermographic high-resolution system VarioCAM® HD head was conceived for demanding stationary monitoring and measurement tasks. The VarioCAM® HD head produces brilliant high-quality thermographic images with 16 bits, which allows unprecedented efficiency, especially when capturing smallest details on large object surfaces. Because of the maximum frame rate of 240 Hz, very quick temperature changes can be recognised reliably.
Thermal Imaging and Infrared Cameras
ImageIR® 8300hp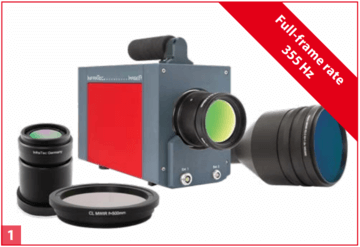 High-speed Thermography Camera – ImageIR® 8300hp
With its ImageIR® 8300 hp, InfraTec introduces another top level thermographic camera model belonging to the ImageIR® high-end camera series. The implementation of a digitally interfaced (640 × 512) pixel MWIR detector now allows 355 Hz full-frame real-time imaging without compromising any thermal accuracy. The ImageIR® 8300 hp and its cooled focal-plane array photon detector reach an outstanding thermal resolution better than 0.02 K.
Thermal Imaging and Infrared Cameras
ImageIR® 9400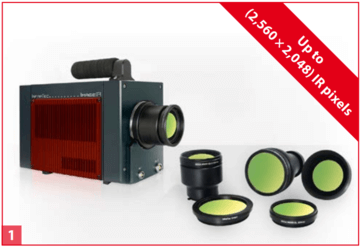 High-performance Thermography Infrared Camera – ImageIR® 9400
To analyse the thermal behavior of objects and processes from a wide variety of perspectives InfraTec introduces ImageIR® 9400. The camera is equipped with a new generation cooled focal-plane array photon detector that provides a format of (1,280 × 1,024) IR pixels. Besides the standard mode users can choose a high-speed mode utilising binning technology. Due to a reduced number of pixels but the same field of view (FOV) this enables very high frame rates up to 622 Hz and an excellent thermal resolution at the same time.
Thermal Imaging and Infrared Cameras
ImageIR® 10300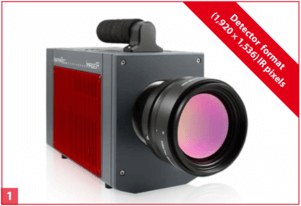 Full HD Thermography Infrared Camera – ImageIR® 10300
With its detector format of (1,920×1,536) IR pixels the ImageIR® 10300 sets new standards in geometric resolution worldwide and creates thermograms with an unprecedented image detail and sharpness. For the first time an infrared camera for civil use with a cooled photon detector permits full HD images. In combination with the small pitch dimension of 10μm, this ensures that measurement, inspection and surveillance tasks can be solved even more efficiently than before. Everywhere such very fine structures need to be analysed on large-surface measurement objects, for example, users save time, effort and thus costs.
What are infrared cameras?
Infrared Cameras are measurement devices used for capturing the difference in temperature or heat signatures without any contact with the object. By measuring the amouunt of thermal radiation emitting from the object, infrrared cameras will be able to capture the difference in temperature. At EastWest SVC, we offer a wide selection of various Infrared Cameras to cater for your requirements.
Top 3 Reasons Why EastWest SVC is your preferred vendor for Thermal Imaging Cameras and Infrared Cameras
We Understand Your Needs
We approach every project and the requirements of our clients with a consultative approach.
EastWest SVC ensures that we understand your requirements before we propose any solution to meet your needs.
More Than 10 Years of Experience
With more than 10 years of experience under our belt, our experienced team of consultants and engineers are here to help.
We are confident that we can offer you the best advice and consultation required to achieve your desired goals.
Trusted by leading research instituitions
Our major clients include top research institutions like NUS, HP, Qualcomm and Leica Microsystems. 
EastWest SVC is honoured that the top research institutions in Malaysia place their trust in us. 
Can't find the Thermal Imaging and Infrared Cameras you're looking for?
Click on the buttons below to view more products.
Get Started
Applications and Techniques
EastWest SVC distributes a wide range of products, technologies, and services for professionals. Our clients are from the industrial and manufacturing sectors such as life scientists, clinical and diagnostics researchers and process engineers. Our goal is to help you achieve the desired results using the latest technology.